Hinckley Motor Yacht Cruise to Toppers Restaurant at the Wauwinet Inn, Nantucket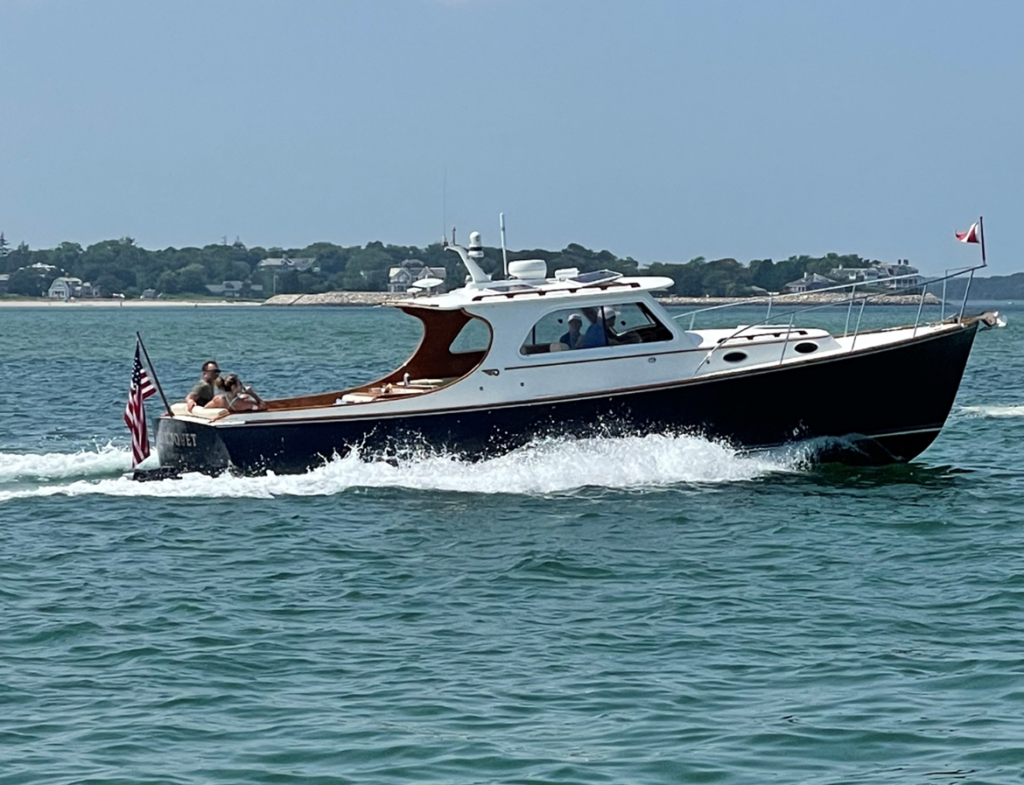 Embark on a luxurious journey aboard a Hinckley motor yacht from the historic town of Nantucket to experience a delightful cruise to Toppers restaurant, located at the renowned Wauwinet Inn. This exquisite charter offers an unforgettable day of scenic beauty, gourmet dining, and ultimate relaxation.The Hinckley motor yacht, renowned for its elegance, craftsmanship, and superior performance, awaits your arrival at Nantucket's charming harbor. With its classic lines and timeless design, this yacht promises a luxurious and comfortable experience throughout your voyage.
As you step aboard, the attentive crew greets you with warm hospitality, ensuring your every need is met. The yacht's spacious and tastefully appointed interior provides a welcoming atmosphere, combining modern amenities with traditional nautical charm. Relax in plush seating areas, savor the breathtaking views through large windows, order indulge in conversation with your companions.
The journey begins as the yacht gracefully glides through Nantucket Harbor's shimmering waters, offering picturesque views of the historic town and its iconic landmarks. Admire the charming lighthouses, historic wharves, and quintessential New England architecture that make Nantucket a beloved destination.
As you venture further, the yacht sets a course towards the idyllic Wauwinet Inn, nestled on the northeastern shores of Nantucket Island. Feel the refreshing sea breeze against your skin as you take in the panoramic vistas of the Atlantic Ocean and the island's pristine coastline.
Upon reaching the Wauwinet Inn, the yacht docks at a private pier, allowing you to disembark and make your way to Toppers restaurant. This culinary gem offers a delectable dining experience with a focus on fresh, locally sourced ingredients prepared by skilled chefs. Indulge in a delightful lunch, featuring a tantalizing array of seafood, farm-to-table dishes, and exquisite desserts.
After savoring the culinary delights, take some time to explore the Wauwinet Inn's picturesque surroundings. Stroll along the sandy beaches, relax in the well-manicured gardens, or simply unwind in the tranquil ambiance of this coastal retreat.
When you're ready to depart, return to the yacht, where the attentive crew welcomes you back with refreshing beverages and a smile. As the engines hum to life, the yacht gracefully glides away from the Wauwinet Inn, offering you a final opportunity to take in the beauty of Nantucket's coastline.
The return journey to the historic town of Nantucket provides a perfect opportunity to reflect on the memories created and bask in the tranquility of the open waters. Sit back, relax, and enjoy the company of your fellow passengers as you reminisce about the delightful experience and take in the panoramic views one last time.
As you approach Nantucket Harbor, the crew ensures a seamless arrival, docking the yacht with precision. Disembark with cherished memories of a luxurious and unforgettable charter experience, a delightful lunch at Toppers restaurant, and the timeless beauty of Nantucket Island.